About
7.1.4 Example (N84/P2/Q7) Binary Stars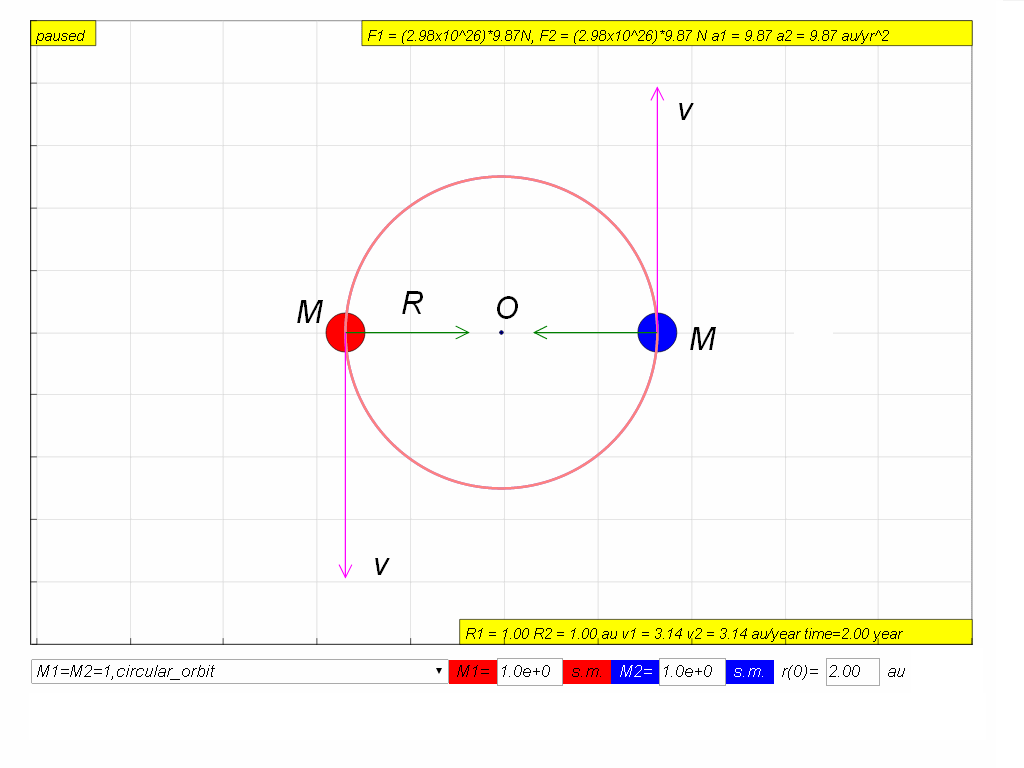 Two stars of equal mass M move with constant speed v in a circular orbit of radius R about their common centre of mass O. What is the net force on each star?

A B C zero D E
7.1.4.1 Activity:
select from the down-drop menu "M1=M2=1,circular_orbit"
click play and observe the motion, noting down the magnitude of the forces (green arrows) on each mass.
let assume in the simulation that and
given that astronomical unit is 1 a.u. = 1.496x1011 m
the distance between the masses is
the force is therefore,

therefore net force on each M1 star is
similarly, the net force on M2 star is making the answer B
in the simulation terms, notice the force on M1, F1 = (2.98x1026)9.81 N and F2 = (2.98x1026)9.81 N.

7.1.4.2 Model:
You may interact with the simulations using the EJSS below link (require internet) or just below if you are using the epub3 reader such as
Gitden Reader
(Android) or
iBook
(Apple). It is recommended to enable Scrolling View equal to true by clicking on the A
A
on the top right corner of the reader app, so as to maximize the view of the simulations.
For Teachers
Translations
Software Requirements
| | | | | |
| --- | --- | --- | --- | --- |
| | Android | iOS | Windows | MacOS |
| with best with | Chrome | Chrome | Chrome | Chrome |
| support full-screen? | Yes. Chrome/Opera No. Firefox/ Samsung Internet | Not yet | Yes | Yes |
| cannot work on | some mobile browser that don't understand JavaScript such as..... | | cannot work on Internet Explorer 9 and below | |
Credits



Fu-Kwun Hwang - Dept. of Physics,National Taiwan normal Univ.; Loo Kang Wee; Wolfgang Christian
end faq
http://iwant2study.org/lookangejss/02_newtonianmechanics_7gravity/ejss_model_gravity02/gravity02_Simulation.xhtml
App
https://play.google.com/store/apps/details?id=com.ionicframework.gravity02app385564&hl=en
YouTube
Versions
Other resources
end faq